The Retreat Centre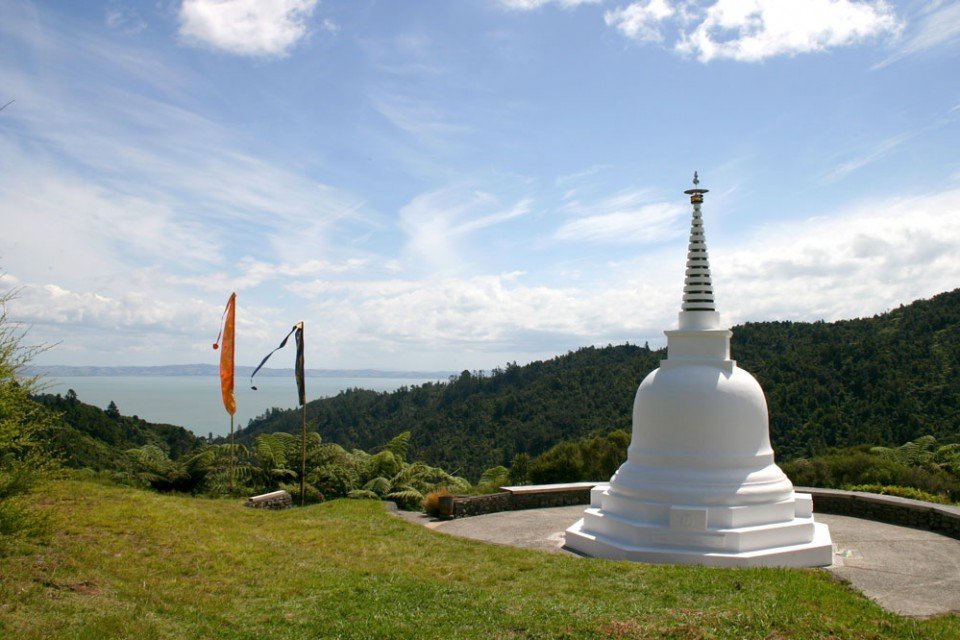 Sudarshanaloka is a Triratna Buddhist Retreat Centre located on the Coromandel peninsula, New Zealand. It is also home to a practicing community of Buddhists where we meditate, study, eat, work and play. We endeavour to nurture the hills, trees, rivers and wildlife and facilitate a place of spiritual practice for the benefit of all beings.
Our mission
'Sudarshanaloka' means 'Land of beautiful (or happy) vision.' This vision is not just about the beautiful view of the hills and water and native bush. 'beautiful vision' is also about sangha (the spiritual community) working together to bring alive their shared vision through collective work and practise. It's the beauty of the community of like-minded people practising the teachings of the Buddha, the beauty of what arises between them as they do so, and the beauty of the awakening they are aspiring to manifest. These ideals are encapsulated in our Vision, Mission and Principles statement. We welcome you to this collaborative and creative unfolding vision.
What we offer
At Sudarshanaloka we offer a varied programme of retreats and other events, facilites for 'self' or solitary retreats and opportunities for volunteering and supporting in different ways.
The retreat centre can be hired for retreats, workshops or day events when we have gaps in our own programme. contact us for more information.
Triratna Buddhist community
Sudarshanaloka is part of the wider New Zealand Triratna Buddhist Community (TBC), which in turn is part of an international Order and community with activities in Australia, the United Kingdom, India, Europe, and many other countries around the world. Locally, in Thames, TBC also runs Lotus Realm Gift and Music shop and Buddhaloka, the Thames Buddhist Centre.
Looking after our environment
The Retreat Centre is off the grid regarding water, electricity and sanitation which has presented an opportunity to develop ecologically sustainable utilities. This has been an ongoing process since the purchase of the land in 1993, evolving from the innovative and novel to our current effective ecological systems.
Together with Waikato Regional Council, we are committed to protecting kauri at Sudarshanaloka from Kauri Die-back (KDB) Disease. Please help us to do this by using the boot cleaning station in the car-park as soon as you arrive, and others when you come across them.
Policies and guidelines
Sudarshanaloka has a number of policies and guidelines to help ensure that all those who attend our activities are well cared for and supported.
Amenities
we are 'off grid' and run on solar power, gas and local water
mobile phone reception is poor, although the higher up the hill you go you might get a conversation
2 toilets, 2 showers
large kitchen with 2 stoves, gas fridge, electric fridge
combined lounge and dining area, which has seated up to 40 (recommend comfortably 20)
7 bedrooms (2 singles, 5 dorms)
small shrine room (seats up to 10 comfortably)
large workshop/ shrine space (seats up to 40 for meditation, yoga 20+)
a few camping sites