FAQs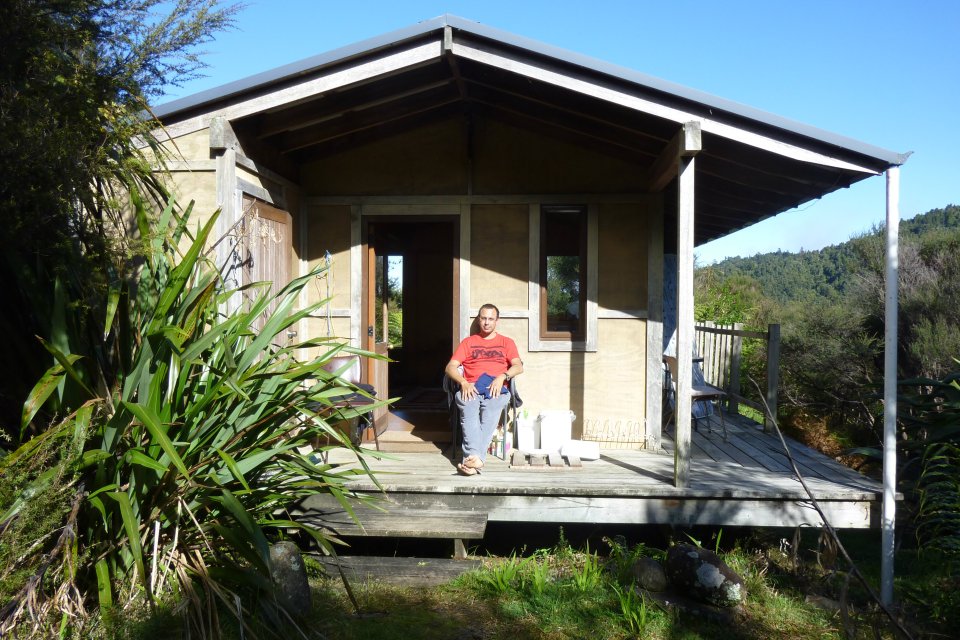 Practical Issues
Our solitary retreat cabins are designed for sole occupancy. The whole idea is to be with yourself, and to discover who you are and what you are like when there is no one else around.
This style of retreat is also known as an individual, personal or solo retreat.
Where is Sudarshanaloka located?
About 20 minutes drive from Thames, up the Tararu Valley. Depending on traffic conditions, about 2 hours drive from Auckland. Please see our contact us page for greater detail.
Is it easy to get a ride to Sudarshanaloka if I arrive in Thames by bus?
If you give us at least 7 days advance notice, we'll arrange to pick you up from Thames and bring you to Sudarshanaloka for your solitary. The charge for this service is $10 one way. If arriving by bus and you need to do food shopping, it's a two minute walk from the bus stop to the Pak'n'Save supermarket. You can leave your bags at the Information Centre (there may be a small charge). We will arrange to pick you up after you have done your shopping.
What should I bring?
The essentials are bed linen (sheets and duvet cover - single bed size, and pillowcases), toiletries, a towel, sturdy walking shoes, and a torch light. In the winter months, bring warm clothes and a raincoat. In summer include insect repellent, water bottle, sun block and a hat. Swimming togs too if you plan to go to the river.
Can I hire linen and a towel?
Yes, a set of sheets, two pillow cases, towel, handtowel and face cloth is available for $15 to cover laundry costs.
Do I need to bring all my food in with me?
You'll need to bring your first week's food in with you. If you are on solitary retreat for longer than a week, we offer a complementary weekly food shop, which is usually done mid-week. As we are a Buddhist retreat centre, we only supply vegetarian food and we ask you to respect this when bringing your own food.
Do you allow alcohol, drugs and meat?
We are trying to create an atmosphere of greater awareness, greater kindness, and greater clarity at Sudarshanaloka. In alignment with this and the five Buddhist training precepts, it is an alcohol, drug and meat free environment.
What sort of things will already be in the cabin?
There will be two pillows, a duvet, several blankets, and hot water bottle, a meditation mat and cushions. In the kitchen area are tea-towels, salt and pepper, utensils and pans, crockery and cutlery, dishwashing liquid, and cleaning supplies. Also supplied are toilet paper and a simple first aid kit.
What are the check in times?
Please plan to arrive at 4pm on your first night. You will need to arrange your exact arrival time with our team so that we can meet you at the gate, community house or other agreed place. If you are going to arrive outside the normal check in hours, you'll need to arrange this with us at least 7 days in advance. Running late? We'd appreciate a call (tel 027 417 1854) to let us know.
When I get to Sudarshanaloka, will someone drive me to my cabin?
Yes, our access road (known as the Dharma Road) can be demanding and we strongly advise against private vehicles driving up. Best if you leave your car at the gate, we meet you there and drive you to your solitary cabin. This also gives us a chance to show you the basics of the cabin and for you to ask questions.
Will I need to clean the solitary cabin at the end of my retreat?
Yes, please. Best practice is to leave the cabin in a better condition than you found it. There will be cleaning supplies there. Our cabins benefit from the care and consideration of the people who use them.
Once in, how do I get back out?
Check out is by 10am. Best practice is to set a time when we drive you in for us to come get you on your last day.
---
Bookings, payment, cancellation and weekly food shop
How much does it cost to rent a solitary cabin?
There is a minimum two night stay at $60 per night plus an additional $40 service fee. Additional nights up to thirty days are $40 per night. After one month there is a 10% on the nightly fee and 15% after three months. Don't worry, our website calculates this fee automatically for you! The basic principle is simply that additional nights cost less after the first month. If you want to hire a solitary cabin for more than six months, please inquire about our longer term (and even better value) rates.
We have this pricing formulae in order to make it less expensive for you to do extended solitary retreats. Once you are arrived and settled in your cabin, it is easier for us to look after you. So we pass this savings on to you through lower nightly fees for extended solitary retreats.
How do I make a booking?
You can make a booking through this website, simply click the green bar at the bottom of the page detailing your chosen cabin. Payment is due immediately and we hold the dates you request for 7 days. Once you've paid, we confirm your booking by email. If you do not deposit the full facility fee within 7 days, the dates your have requested are made publicly available again.
How do I pay?
We ask that you pay the full facility fee by direct banking. After you request a booking, you'll be notified by email of our banking details. At this stage we do not have paypal or credit card facilities.
What is your cancellation policy?
People plan their solitary retreats well in advance. If you cancel it is possible that those dates will not be rebooked by another. As a result, a minimum two months notice is required for a full refund, less 10% of the retreat cost or a minimum of $60 administration fee. If you wish to change your booking dates, we can do this once only with the same two months notice and a $30 administration fee. In the case of an emergency please contact us to discuss further.
How do I pay for this weekly food shop I've read about?
For retreats longer than 1 week, we offer a complementary weekly food shop. You'll need to either provide our shopper with cash (easiest when you are only getting one of two small shops) or deposit the money by direct banking in advance (when you are coming for longer than 2 weeks). We suggest between $80-$100 per week. If you direct deposit your food shop money in advance, we will fully refund unspent money after your departure and will fully refund any money paid in advance for these purposes if you cancel your booking.
Are there any special terms and conditions?
Sudarshanaloka is an area of natural hazards and it is important you take responsibility for your own safety. We reserves the right to decline access to the huts if we feel you are ill prepared in any way for your retreat or in the case of extreme weather conditions. We also reserve the right to suspend your retreat if for any reason we feel you are unfit to continue, and to give you 24 hours notice if you disrupt or disturb any other retreat hut user on the land.
You will be asked to sign a Terms and Conditions form on your arrival, which includes providing us with emergency contact details. We need particular details from you for retreats under one month then more extensive information for retreats of a month or more. Long term retreats are subject to approval upon enquiry.
---
Never done a solitary retreat?
How long is a solitary retreat?
For your first solitary retreat, probably best to just go for two or three nights. Try it out, see how you find it. If it then seems like something you'd like to do more of, you could try a week, then maybe two weeks. Experienced practitioners go on solitary retreat for months at a time. There is even a Buddhist practice of doing a 3 year, 3 month, 3 day retreat.
Will there be anyone else around?
Besides other people who might be on solitary in another cabin at the same time as you, there are also our resident community members who live on the land. On weekends, particularly during the summer months, there are frequently group retreats at the community house. When you arrive, the person meeting you can tell you who is around.
What if I need to talk to someone?
Being on a solitary retreat can be challenging at times. Although part of the idea is to see through discomfort to a deeper contentment, sometimes you just need some support. If you are really struggling we strongly encourage you to ask to talk to someone. You can leave a note with your shopping list or come down to the community living quarters.
Do you need to be a Buddhist to book a solitary cabin?
No. But we do ask you to respect some of the principles we live by on this land. For example, Sudarshanaloka is a drug, alcohol and smoke-free area. We only supply vegetarian food and ask you to respect this when bringing your own food. More generally, we try to live by five training precepts based around non-harm, generosity and kindness.
Is there a right and wrong way to do solitary retreat?
If you really want to get the most our of your solitary retreat it is best to keep your activities simple. Solitary retreats are about slowing down, relaxing and invigorating the mind through meditation or similar practices, experienceing the simplicity of being in nature, and even having periods of 'doing nothing.' It would be a shame to go on solitary retreat and simply busy yourself with activities. So no, not really a right or wrong way: each solitary retreat unfolds uniquely when we simply spend time with ourselves.
What do you DO on a solitary retreat?
Visit our practice page to get some tips and read other people's experiences.
Join the friends of Sudarshanaloka community
---
Visiting from overseas