Anapanasati in the bush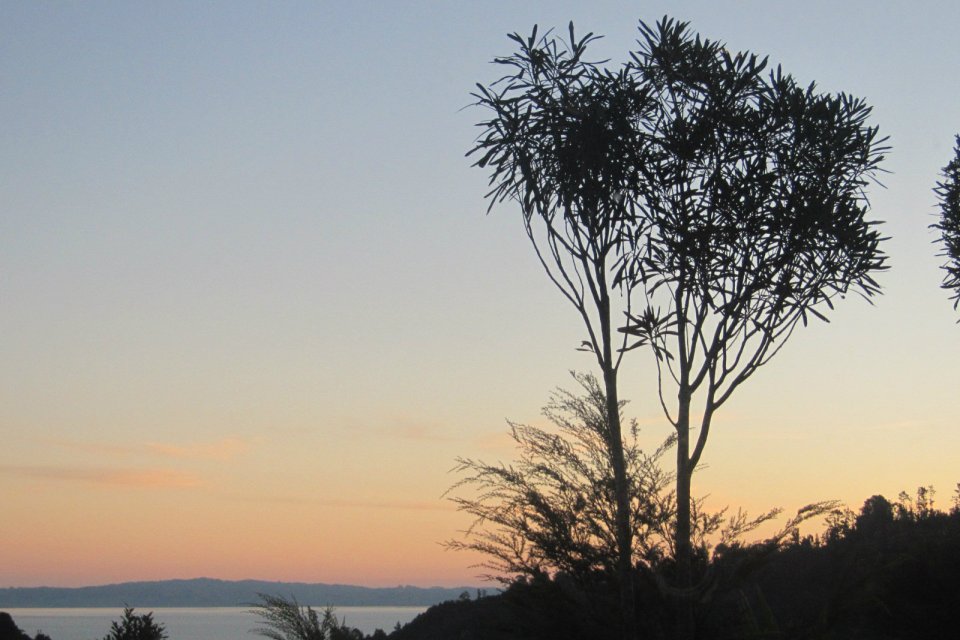 Geoff Walker
September 2016
When I recently I spent a week's solitary retreat in Amida hut at Sudarshanaloka it initially felt like a big challenge. At my first solitary some years before I'd struggled. That had been for just one weekend, Friday to Sunday, and I'd never really settled. Two days was far too short. At any given moment I couldn't sit still or decide what to do, and in fact at one point on the Sunday morning I was in tears: I couldn't decide whether go for a walk or make a cup of tea! It felt that I could barely function on my own.
So I approached my week in Amida this time with some fears. And for the first day or two I felt ill at ease. It was cold and damp. The heater didn't always spark. It rained all day. The mist was down. There was a rat scuffing around in the ceiling at night. The matches were going soggy. In my meditation I was restless and distracted.
Sudharshanaloka in this mood can be a challenge.
But then I settled. I went for long solo walks in the rain up the Ridge Track and along the Ohio Track. I meditated at the stupa. I walked round the great puriri and enjoyed the restful beauty of the Meditation Walk in the bush behind the retreat centre. I did some serious tree hugging and connected with the silent primeval power of the forest giants that have escaped the sawmillers up there.
And soon I was able to simply 'be'. I spent a lot of time simply sitting with a cup of tea and looking out the window down to the sea and doing nothing. I began to feel happy and contented. Soon I was enjoying a restful, calm pleasure in just being there and sitting there. I experienced surges of joy. I did read a portion of one book, Donald Rosenberg's Breath by Breath, and that felt right because it is about the Anapanasati meditation practice, which I decided to focus on during the week.
I wrote myself a poem about sitting in the big chair after breakfast. The only sounds are the murmur of the river, the rain and the hissing of the heater:
'. . . Are these tears?
But it's not unhappiness you feel.
Yet nor are these tears of joy.
You blink. You sit.
You close your eyes and without further effort
You're meditating.
You sit. You're breathing.
There is no other world . . .'
I practised Anapanasati from the beginning and was now able to slip into an easy, focused state. Within a few days I began experiencing new spaciousness in my meditation and an expansive energy flowing through me. I could rest in that, or I could move on to the next Anapanasati reflection. I loosened up. On some of my sits I was able to experience quite deep concentration. This took me to places I'd never experienced before in my meditation. It felt like the true nature of my mind separate from its negative attachments, and it was exciting. At one stage the feeling came to me: 'This is what the Buddha felt!' This felt to me like genuine insight, a sense of the transcendental – just a fleeting taste, but a deep one, and very moving.
So I'm very grateful to Sudarshanaloka for the opportunity to spend the week in this way. I conquered my fears about being alone and my worries about the damp and the soggy matches and my new friend the rat. This has given me a new confidence in 'stillness, simplicity and contentment'. And so has the depth I was able to experience in meditation. That has given me a different sort of confidence – in my Dharma practice and in my Going for Refuge. At one level the week has been simply a top-up; at a much deeper level it has been a powerful affirmation to me that in committing to the Buddhist path and asking for ordination I've made the right decision.
It is clear to me that I wouldn't have received this gift if I hadn't spent my week in Amida. I'm very grateful. And I am now a cheer leader for the benefits of solitary retreats.