Radiating warmth for the benefit of all beings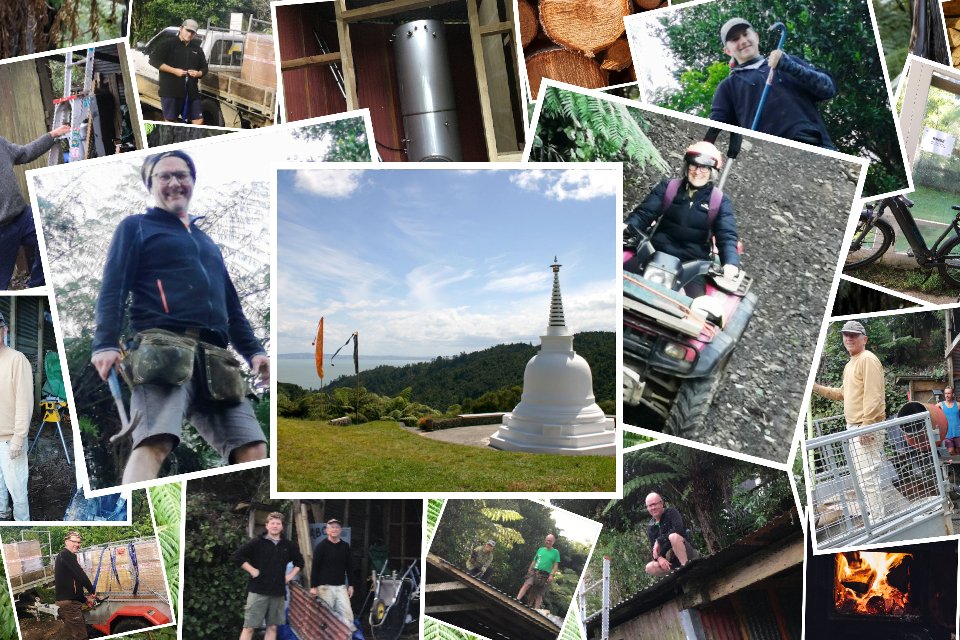 We want to express our heartfelt gratitude to all those who have already contributed generously to Sudarshanaloka's transformation into a year-round sanctuary. Your support has been instrumental in our progress so far, and we cannot thank you enough.
We are all well aware of the immense beauty and uniqueness of Sudarshanaloka. With its awe-inspiring vistas of Tikapa Moana-O-Hauraki, steep native bush clad hills and ever changing skyscapes, it truly is a remarkable place. Summer retreats at Sudarshanaloka offer an extraordinary experience.
However, during the winter months, the retreat centre has faced a significant challenge we are well acquainted with; the lack of proper heating facilities. This limitation has made winter retreats a daunting experience for all but the most resilient individuals. It has compromised comfort, hindered income generation, and restricts opportunities for practitioners to connect and deepen their spiritual practice.
A small, dedicated team has been working on the heating installation project for the past few weeks and on Sunday 4 June we fired up the new boiler for the first time. We now have radiators pumping out warmth throughout the retreat centre house, including all the bedrooms. Over the next few days we'll be hooking up the shrine room and library to create a cosy, welcoming experience all year round!
We're utilising our 20-year supply of wilding pines for firewood to enhance environmental efficiency, eliminating the need for external firewood purchases and aiding native plant and animal regeneration. Wood fire is more eco-friendly than LPG, diesel, or coal.
What we have achieved together already is remarkable and this is our last push to finish and pay for this vital project. By making a gift today, you are contributing to making retreats possible throughout every season. Your support will nurture growth and engagement, welcoming visitors all year-round.
We're excited to share that Windhorse Trading and FutureDharma have generously agreed to match every gift, up to $9,333 until August 1st. This means that your gift will be tripled, increasing its impact.
The Future Dharma Fund link that was previouly advertised for this fundraiser appears not to be working for those of us in New Zealand! You can give directly into Sudarshanaloka's account instead. Use the reference "FUD" and your gift will still be tripled courtesy of FutureDharma Fund and Windhorse Trading until August 1.
Account name: Sudarshanaloka
Number: 02-0400-0370318-01
Reference: FUD
Code: [use your name]
Give $200 today and have that tripled to $600 - or whatever you can give.