Sharing the fruits of wonderful volunteers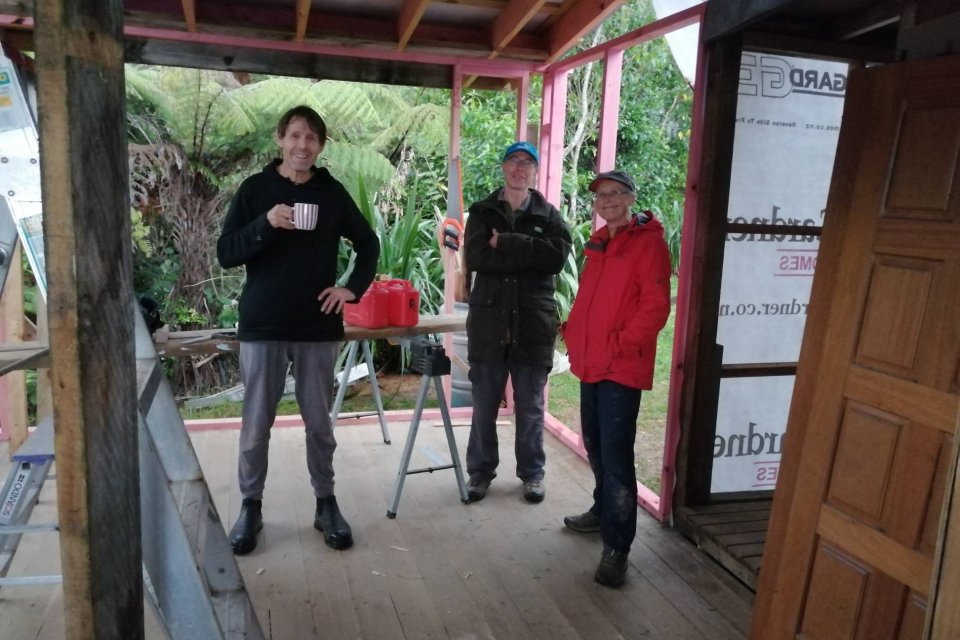 So much has happened at Sudarshanaloka in the last 3 1/2 weeks with the help of a wonderful team of volunteers!
A core group of skilled workers have laid the new roof at the community cabins and are now preparing for closing in the previously open ended living space with cladding and windows.
Thanks to Will and a hired yellow digger we have clear access to a large stand of future firewood. Guhyavajra was inspired early on to name this 'Vogon's Way' after a sci fi intergalactic highway construction project.
The Dharma road is being graded and metalled in a few key places and roadside drains are being cleared.
The legendary 'Puffa track' is now a path of many steps and we're halfway through upgrading the popular track to Black Rock pools.
We've had over 20 people coming and going since the beginning of May including numerous locals as well as those travelling from Wellington, Wanganui and Auckland. It's been amazing to witness the collective skills, enthusiasm, open hearted generosity and friendliness of all who have come to help.
We began with a week or so of brilliant blue sky days and have just come out the other side of a long spell of wet, wild, cold weather. Even though winter has now arrived the people keep coming and the work keeps rolling on. We've made some great connections with old friends and new and had a lot of fun along the way.
We've been nourished by food planned and prepared by numerous volunteers and uplifted by conversations around the community fire.
All along we've meditated together early in the mornings in the shrine room and come together in the evenings for puja, mantra chanting and readings by candlelight. Here we have been surrounded and inspired by Buddhas and Bodhisattvas and dwelled together harmoniously in the fine company of spiritual friends.
Today the sun is shining once again and the work continues until the end of May.
---