Springing into action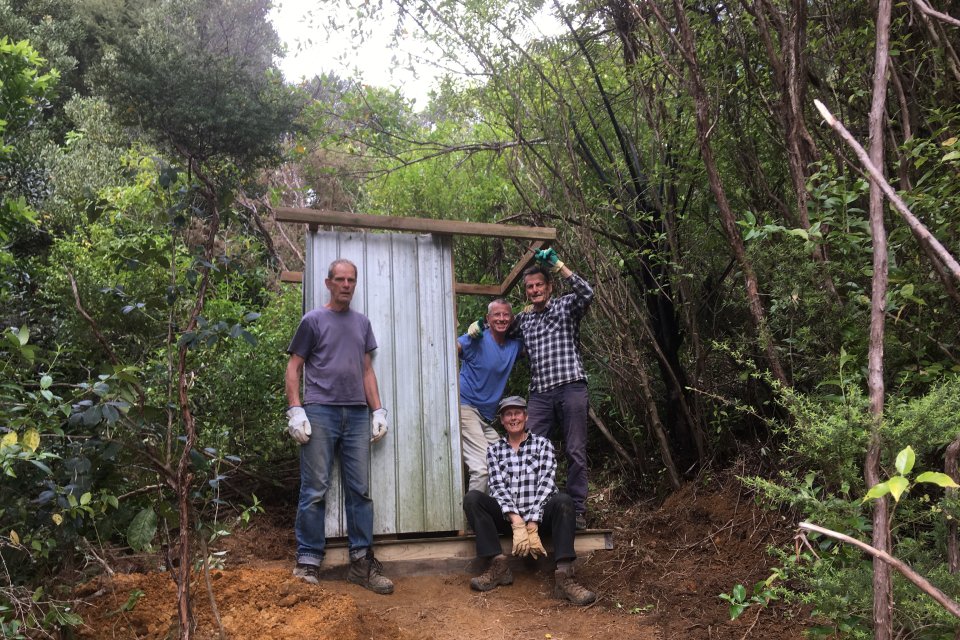 It's a beautiful day here at Sudarshanaloka for our week long spring work retreat and volunteers are happily and mindfully working on various projects around the land. Friends have joined us from Wellington, Wanganui, Auckland and Thames. They are offering whatever skills and time they have and more will come and go over the next few days.
We have the 'Lumberjacks' processing wood from two recently felled pines on Vogon Way. They've been organising the site for the log splitting which began today, stacking the rounds for seasoning and creating extra storage for what will initially be at least a years supply of firewood.
Meanwhile the 'Dunny Bunnies,' with a bit of help from the Lumberjacks, have been creating a new outside loo for the Amida campsite which will be well used on our fast approaching summer retreats.
The 'Water Wheels' will be springing into action over the next few days to level and prepare a site for a new 25,000 litre water tank being delivered very soon. This will increase our water harvesting capacity significantly for the long dry summers ahead.
The 'House Ninja's' have been giving the lower retreat centre a spring clean in readiness for decluttering and reorganising some key areas. They're also been joined daily by our faithful cooks who have been beavering away in the kitchen to feed all of those who are helping.
We've been meditating together in the mornings and gathering in the shrine room by candlelight at night for story telling, mantra chanting and pujas.
If you'd like to join us for a few hours or more, right up to 17 October, it's not to late to contact Dhiraprabha at dhiraprabha@gmail.com to arrange.
Once again we are immensely grateful to all who are so generously helping for the benefit of many beings.
May all blessings be yours!
---